Take Me Out to the Ballgame
Wednesday, October 21, 2015
Summer just isn't summer without a little baseball. Great seats, the night lights, the sound a ball makes when it's crushed by a bat … All which just makes for a great night out. At the Sinclair office I was told the company was sponsoring one the local Salt Lake City Bees baseball game this coming weekend. They also told me they had access to the stadium and field prior to the big game day. I asked if I could go check it out and they approved without hesitation!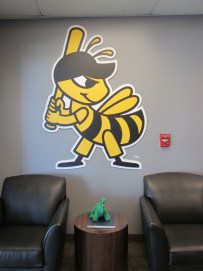 The Smith's Ballpark itself was quite the site to see, and the location was great! The structure towered over me as I made my way over to the ticket booth to inform the Bees employees that I had arrived. They were almost as excited as I was about my visit!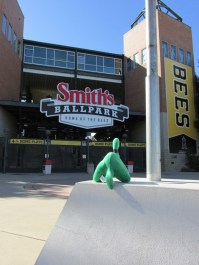 The first part of my tour was the interior of the stadium. Going to the top row first and making my way down, I was able to see the ball park from every angle in the stands! I eventually found my favorite seat a few rows away from the Bees' dugout, on the first-base line. I sat there and just stared at the field for a bit, imagining what it was like on game day – with the seats packed and the crowd roaring as players raced around the bases.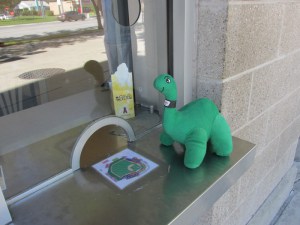 Then I was invited to walk down and actually go on the field! Beyond excited, I rushed down and sprinted around the bases, imagining myself as the star player on the Bees rushing to score the winning run. I was so surprised at how tired I was afterwards that I decided to take a seat the in Bees dugout, which was an experience all in itself! Sitting there, I reflected on my experience and was extremely thankful that the Bees organization had allowed me to make my visit to their great facility. What a great adventure! I look forward to the game against the Iowa Cubs this Saturday!