Sinclair Oil Launches Summer Throwback Sweepstakes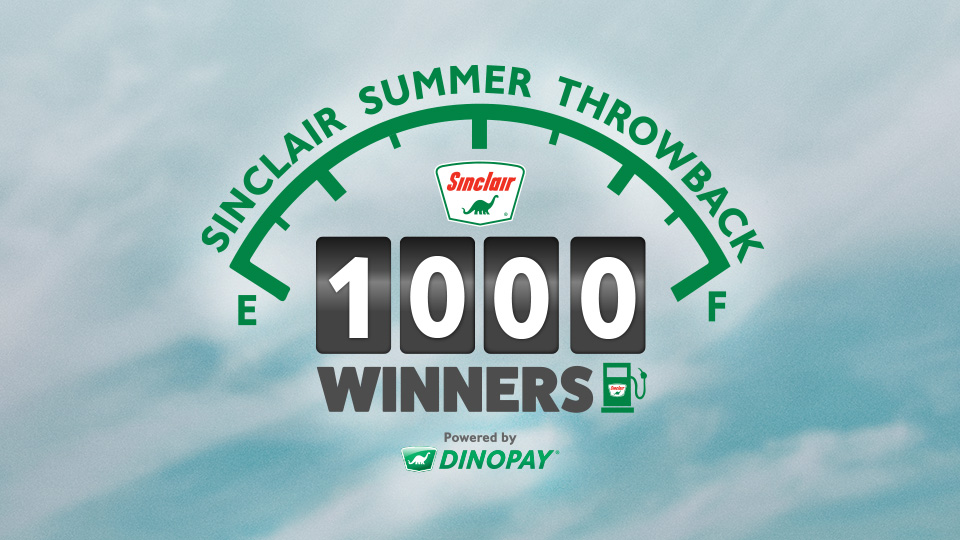 1,000 winners in eligible states will win $3 off per gallon on a fill-up
SALT LAKE CITY, Utah – July 28, 2022 – Sinclair Oil, an HF Sinclair brand (NYSE:DINO), announces its newest consumer promotion: the Sinclair Summer Throwback.
Sinclair is throwing back gas prices by giving 1,000 winners $3 off per gallon on a fill-up through its DINOPAY® app. From July 18 through Aug. 17, 2022, consumers may use DINOPAY® to enter the sweepstakes for a chance to win.
DINOPAY® is a simple, safe and secure way to pay at the pump and in-store. Users may turn the pump on with their smartphones. The system is secure and requires no swiping or touching keypads. Those using a credit card app will save 10 cents off every gallon purchased.
Key details include:
Two ways to enter: using DINOPAY® to make a transaction or via an online form, with no purchase necessary. Both methods of entry are limited to one entry per person, per day.
Winners will be notified via the email address associated with their DINOPAY® account or via the email provided in the No Purchase Necessary entry page.
Each of the 1,000 winners will receive a DINOPAY® promo code good for $3 off per gallon on up to a 30-gallon fill-up.
Additionally, each of the 1,000 winners will subsequently be emailed three promo codes to share with friends and family. Each code is valued at a one-time discount of 30 cents off per gallon on a fill-up through DINOPAY®.
Full rules for the sweepstakes are available online. No purchase is necessary to win. The promotion is void where prohibited in Florida, New York and Rhode Island.
Marketing Inquiries
Stephanie Coleman
Advertising and Communications Manager
scoleman@sinclairoil.com
801-524-2802
Media Inquiries
HF Sinclair
media@HFSinclair.com
About HF Sinclair Corporation
HF Sinclair Corporation ("HF Sinclair"), headquartered in Dallas, Texas, is an independent energy company that produces and markets high value light products such as gasoline, diesel fuel, jet fuel, renewable diesel and other specialty products. HF Sinclair owns and operates refineries located in Kansas, Oklahoma, New Mexico, Wyoming, Washington and Utah and markets its refined products primarily in the Southwest U.S., the Rocky Mountains extending into the Pacific Northwest and in other neighboring Plains states. HF Sinclair supplies high-quality fuels to more than 1,300 Sinclair branded stations and licenses the use of the Sinclair brand at more than 300 additional locations throughout the country. In addition, subsidiaries of HF Sinclair produce and market base oils and other specialized lubricants in the U.S., Canada and the Netherlands, and export products to more than 80 countries. Through its subsidiaries, HF Sinclair produces renewable diesel at two of its facilities in Wyoming. HF Sinclair also owns a 47% limited partner interest and a non-economic general partner interest in Holly Energy Partners, L.P., a master limited partnership that provides petroleum product and crude oil transportation, terminalling, storage and throughput services to the petroleum industry, including HF Sinclair subsidiaries.
About Sinclair Oil
Sinclair Oil, an HF Sinclair brand, is one of the oldest continuous brands in the energy business. Recognized for its iconic dinosaur, Sinclair has more than 1,600 independent branded stations, featuring DINOCARE® TOP TIER™ Gasoline. For more information, visit SinclairOil.com and follow the brand on Facebook, Twitter and Instagram.
# # #