We're throwing back gas prices by giving 1,000 winners $3 off per gallon on a fill-up!
Plus, every winner can share the throwback with three promo codes, each valued at 30¢ off per gallon on a fill-up.
You, your friends and family can all save during the Sinclair Summer Throwback! Now through Aug. 17, 2022, we'll qualify 1,000 winners in 30 days! Every DINOPAY® transaction is an entry. The more you use DINOPAY®, the more entries you get, up to one per day per person. Plus, get instant savings every time you fill up when you pay with the DINOPAY® app. NO PURCHASE IS NECESSARY TO ENTER OR WIN. VOID WHERE PROHIBITED AND VOID IN NY, RI AND FL.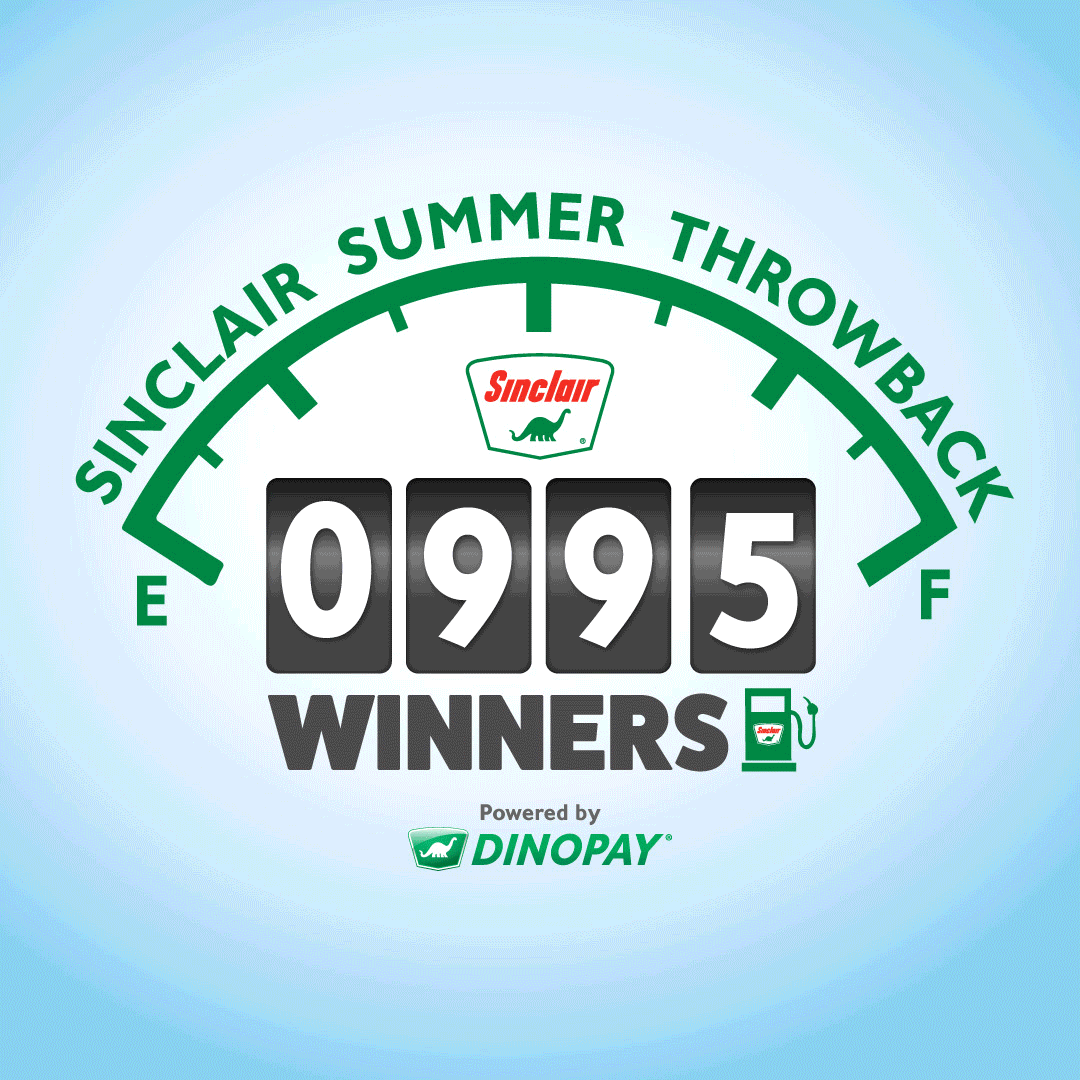 Promotion FAQ
What is the prize?
Each winner will receive a DINOPAY® promo code good for $3 off per gallon on a max 30-gallon fill-up. Additionally, each winner will subsequently be emailed three promo codes to share with friends and family. Each code is valued at a one-time discount of 30¢ off per gallon on a fill-up through DINOPAY®.
How do I enter?
There are two ways to enter; simply use DINOPAY® to make a transaction, that's it. You'll receive one entry for each inside or outside transaction with DINOPAY® at more than 1,600 Sinclair locations. You can also enter with no purchase necessary. Visit our No Purchase Necessary Entry page.
Both methods of entry are limited to one entry per person per day.
How do current DINOPAY® users enter the contest?
Simply use DINOPAY® as you typically would and every completed transaction will be registered as an entry up to one entry per day per person. There is nothing more you need to do.
How many winners will be selected and when?
The event will end Aug. 17, 2022, and 1,000 winners will be randomly selected from all entries.
How will you notify me if I win?
We'll email you at the email address associated with your DINOPAY® account. Or for those who entered via the No Purchase Necessary entry page, we'll use the email you provided.
DINOPAY FAQ
Can I use DINOPAY® inside the store?
YES! DINOPAY® can be used in-store and at the pump.
Can I purchase more than fuel?
Absolutely! You can use DINOPAY® for any product in the store.
Which credit card can I use with DINOPAY®?
Nearly every major credit card is accepted (Visa, Mastercard, Discover, American Express, etc).
Can I use a debit card in the app?
No. However, our in-app ACH payment method, Mobile Advantage™ (which is a virtual debit card), saves you 20¢ per gallon! The enrollment process is simple, lightning fast and completed in-app.
Can I use the app in-store AFTER completing a purchase at the pump?
Yes! You can make a second purchase inside. For security purposes, DINOPAY® is limited to four transactions in a 24-hour period.
Do DINOPAY® discounts stack with Sinclair Card or Mobile Advantage™?
Yes! You get both discounts: 10¢ per gallon with any card + another 10¢ with Mobile Advantage™ = 20¢ off per gallon. Sinclair Card discount works the same. Only at participating locations, and Sinclair Card discount varies by location.
How do I get the DINOPAY® app?
Download the app for free from the App Store or Google Play. Visit our DINOPAY® page for more details.
Participation in this promotion is subject to the terms and conditions here.