Sinclair Oil to Introduce New Balloon at 2022 Macy's Thanksgiving Day Parade®
Wednesday, November 2, 2022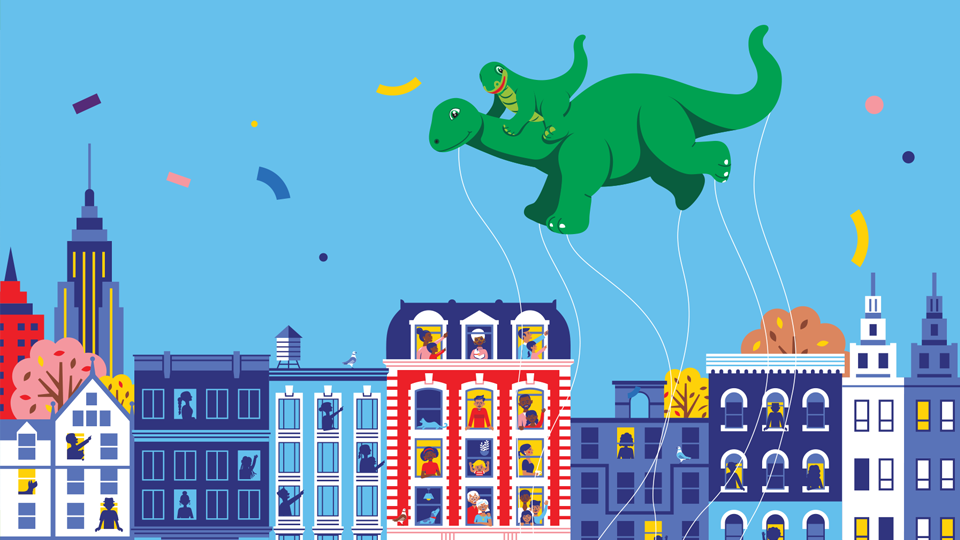 Sinclair has charmed fans with its DINO balloon since 1963
SALT LAKE CITY, Utah – Nov. 2, 2022 – This Thanksgiving, Sinclair Oil, an HF Sinclair (NYSE:DINO) brand, will once again take to the sky over New York City during the Macy's Thanksgiving Day Parade® with the introduction of a new official Parade balloon. First appearing as part of the Parade in 1963, Sinclair Oil has designed its latest balloon to feature company icon DINO with a smaller, look-alike held tightly to his back as they float through the air. Together, the two dinosaurs measure 68 feet long, 26 feet wide and 49 feet tall.
"HF Sinclair is thrilled to once again partner with the Macy's Thanksgiving Day Parade to showcase our new giant balloon, representing a commitment to the next generation," said Jack Barger, senior vice president of marketing for HF Sinclair. "We're honored to once again be part of this heartwarming tradition, along with millions of Americans, this Thanksgiving."
On March 14, 2022, Sinclair Oil was acquired by HollyFrontier, forming the new HF Sinclair. Founded more than a century ago, information about Sinclair Oil stations—and DINO—can be found at SinclairOil.com.
The Macy's Thanksgiving Day Parade will air nationwide in the U.S. on NBC and stream on Peacock, on Thursday, Nov. 24, 2022, from 9 a.m.- noon; in all time zones.
Marketing Inquiries
Stephanie Coleman
Advertising and Communications Manager
Stephanie.SittleColeman@hfsinclair.com
801-524-2802
Media Inquiries
HF Sinclair
media@HFSinclair.com
Macy's Thanksgiving Day Parade
eventmedia@macys.com
About HF Sinclair Corporation
HF Sinclair Corporation (HF Sinclair), headquartered in Dallas, Texas, is an independent energy company that produces and markets high value light products such as gasoline, diesel fuel, jet fuel, renewable diesel and other specialty products. HF Sinclair owns and operates refineries located in Kansas, Oklahoma, New Mexico, Wyoming, Washington and Utah and markets its refined products primarily in the Southwest U.S., the Rocky Mountains extending into the Pacific Northwest, and in other neighboring Plains states. HF Sinclair supplies high-quality fuels to more than 1,300 Sinclair branded stations and licenses the use of the Sinclair brand at more than 300 additional locations throughout the country. In addition, subsidiaries of HF Sinclair produce and market base oils and other specialized lubricants in the U.S., Canada and the Netherlands and export products to more than 80 countries. Through its subsidiaries, HF Sinclair produces renewable diesel at two of its facilities in Wyoming and also at its facility in Artesia, New Mexico. HF Sinclair also owns a 47% limited partner interest and non-economic general partner interest in Holly Energy Partners, L.P., a master limited partnership that provides petroleum product and crude oil transportation, terminalling, storage and throughput services to the petroleum industry, including HF Sinclair subsidiaries.
About Sinclair Oil
Sinclair Oil, an HF Sinclair brand, is one of the oldest continuous brands in the energy business. Recognized for its iconic dinosaur, Sinclair has more than 1,600 independent branded and licensed stations, featuring DINOCARE® TOP TIER™ gasoline. For more information, visit SinclairOil.com and follow the brand on Facebook, Instagram and Twitter.
About the Macy's Thanksgiving Day Parade
The Macy's Thanksgiving Day Parade is a national icon that has grown into a world-famous holiday event. For more than 90 years, the Macy's Thanksgiving Day Parade has marked the official start of the holiday season. Growing in size and scale, the Parade features Macy's signature giant character balloons, fabulous floats, incredible marching bands, celebrities, clowns, dance and performance groups, and the one and only Santa Claus, spreading holiday cheer. For more information on the Macy's Parade, please visit www.macys.com/parade.