Self and Sinclair Partner for Eight Additional Races, NASCAR Debut in 2017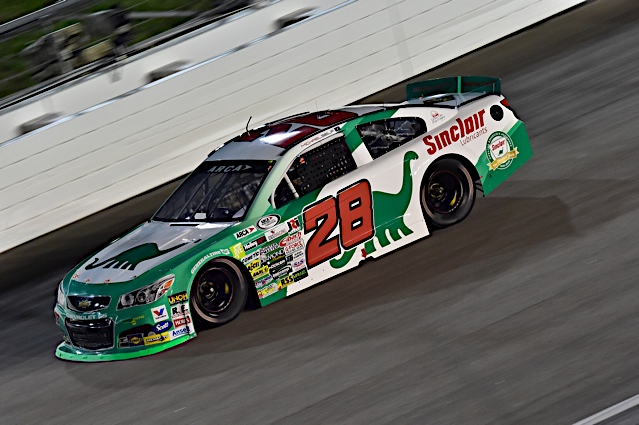 SALT LAKE CITY –  After a top-three debut in the ARCA Racing Series 2016 finale at Kansas Speedway and a strong weekend at the Daytona International Speedway season opener, Michael Self and the "DINO Car," powered by Sinclair Oil Corporation, will return to the racetrack for eight events in 2017. Race fans can catch DINO in both the ARCA Racing Series and NASCAR K&N Pro Series West.
The Sinclair white, green and red livery will return to the No. 28 Chevrolet with Self behind the wheel of a Mason Mitchell Motorsports ARCA entry at Pocono Raceway on June 9, followed by Iowa Speedway on July 8, then re-join MDM Motorsports at Lucas Oil (Ind.) Raceway Park on July 21 and return to Kansas for the series finale on Oct. 20.
Sinclair will make its NASCAR competition debut on Self's No. 9 Ford Fusion, powered by Sunrise Ford Racing, at the K&N Pro Series West event at Colorado National Speedway on June 10. Fans can also catch DINO circling Iowa Speedway on June 28, Douglas County (Ore.) Speedway on Aug. 26 and Meridian (Idaho) Speedway on Sept. 30. 
"It's such an honor to continue working with Sinclair Oil and be in equipment that really showcases the commitment to excellence that epitomizes their brand," said Self. "They're truly my dream partner – we've been able to do some really cool things together off the track, as well as make a lot of noise in the sport with the DINO Car. The amazing fan feedback is really what's powering our partnership and making everything I do with Sinclair so much fun. I'm really excited to keep giving fans something to root for, and hope we can keep DINO at the front of the pack and in the spotlight every race we go to. With the teams we'll be working with, I have no doubt the equipment will be capable of doing just that." 
Fans will have the chance to win DINO racing gear during giveaways from both Self and Sinclair, as well as have opportunities to see the DINO Car in-person at Sinclair stations throughout the season.
"We're excited that our participation in the 2017 racing scene is with Utah native, Michael Self. Michael is an emerging star in the ARCA and NASCAR K&N Series, building on what he achieved last year in a single race at the Kansas Speedway.  We're looking forward to watching Michael this year and what he can accomplish in several races with the Sinclair DINO car," says Jack Barger, VP of Marketing and Supply with Sinclair Oil.
Since Daytona, Self has focused on his newest racing venture driving the No. 9 Sunrise Ford full-time in the NASCAR K&N Pro Series West. After missing the season opener at Tucson, he's scored two top-fives and three top-10s in five starts, working his way up to 10th in the championship points standings. Self looks forward to having Sinclair Oil on the No. 9 Ford Fusion for four races in NASCAR's regional development series.
"Driving the No. 9 for Sunrise Ford Racing has been a lot of fun. It's been a great experience, and given me the chance to be in a racecar and compete more than I have in the last three years combined," Self said. "I think it's going to be really special to have Sinclair Oil on that car at some real short-tracks, right in their prime markets. The schedule we've come up with allows Sinclair race fans to see the car at a variety of different track styles, all over the country."
To keep up-to-date with the latest news, information and exclusive content, follow Self on Facebook, Twitter and Instagram.
SINCLAIR OIL CORPORATION
Sinclair is a privately held Wyoming company with executive offices in Salt Lake City and more than 1,200 employees across several states. Sinclair owns and operates two refineries in Wyoming along with a network of both crude oil and finished-product pipelines and terminals in the Rocky Mountain and midcontinent regions. The company markets fuel in 24 states, supplying high-quality fuels to more than 1,300 branded stations, featuring DINOCARE® TOP TIER™ Gasoline. Sinclair Oil and Gas Company manages its exploration and production portfolios by only participating in major oil and gas development projects in the United States. Sinclair also owns and operates The Grand America Hotel in Salt Lake City, the Little America hotel chain, The Westgate Hotel in San Diego, Sun Valley Resort in Idaho, and Snowbasin Resort in Utah. For more information, visit SinclairOil.com and follow the brand on Facebook, Twitter and Instagram.