Casper Housing Authority Father's Day Event
Thursday, November 5, 2015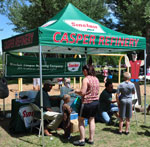 Sinclair Casper Refinery Employees volunteered their time at the Casper Housing Authority's Father's Day event to promote family cohesion and fathers being more involved with their children, and other information of resources in Casper. Sinclair employees served food to over 1,100 people.
Employees grilling hamburgers and hot dogs that day included Steve Pate, Sally Rogers, Robert Ratliff, Chris Larsen, Dave Witt, and Kyle Randles.
Sinclair Casper also had an Informational/Kid booth at which employee Phil Parkinson applied hundreds of Speedy DINO tattoos to Casper kids; Jake Davis helped kids with a Strong Arm Activity; and Verne Grange handed out pamphlets about Sinclair and about 150 popsicles and push-ups! Keith Austin helped out at with both as needed.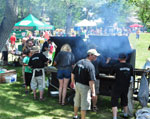 Sinclair's refining employees devote countless hours to improving the lives of others and giving something back to the communities in which they reside. These individuals go out of their way to promote good will and become Sinclair Emissaries in the communities where they live and work. They have raised thousands of dollars for local and regional outreach programs, and Sinclair Oil Corporation applauds their efforts and the difference they have made in their communities.