The Sinclair dinosaur is one of the most popular icons in American petroliana.
But where did he come from?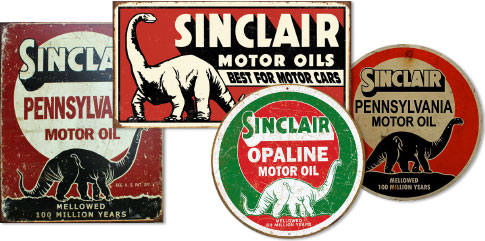 Sinclair's advertising writers first had the idea to use dinosaurs in Sinclair marketing back in 1930. They were promoting lubricants refined from crude oil believed to have formed when dinosaurs roamed the earth.
The original campaign included a dozen different dinosaurs, but it was the gentle giant, the Apatosaurus, that captured the hearts of Americans.

Apatosaurus or Brontosaurus?
DINO was called a Brontosaurus when he was first used in Sinclair advertising. So why do we call him an Apatosaurus now?
Dinosaur fossils are rare, which makes it difficult to study and classify them. Since 1903, paleontologists have had conflicting opinions about whether the Brontosaurus is its own unique genus, or whether it's the same as the Apatosaurus. Sinclair has followed the prevailing opinions of the scientific community, which currently favors calling DINO an Apatosaurus – though new research may eventually change that.
DINO (pronounced DYE-NO) became so popular that Sinclair registered him as a trademark in 1932.
A life-size DINO appeared in the "Century of Progress" Chicago World's Fair in 1933-1934, along with several other dinosaurs built by P.G. Alen, who was known for creating lifelike papier-mâché animals for motion pictures.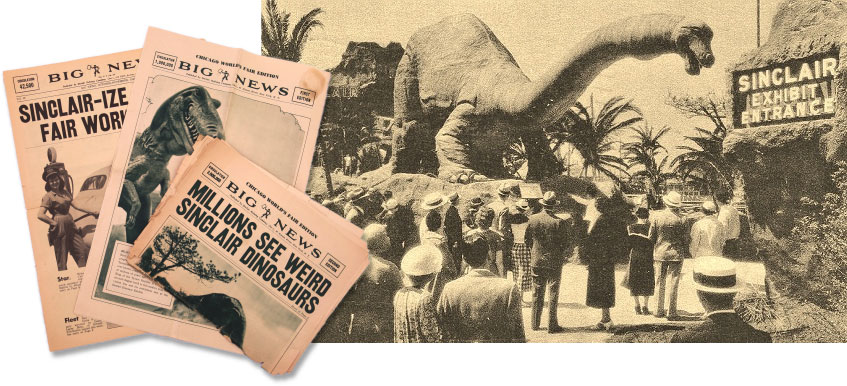 Sinclair and DINO are lovingly parodied as the fictional Dinoco brand in multiple Pixar movies, including Toy Story and Cars.
DINO first appeared as a balloon in The Macy's Thanksgiving Day Parade in 1963 and quickly became an annual fan favorite – so popular that in 1975, he was named an Honorary Member of the Museum of Natural History.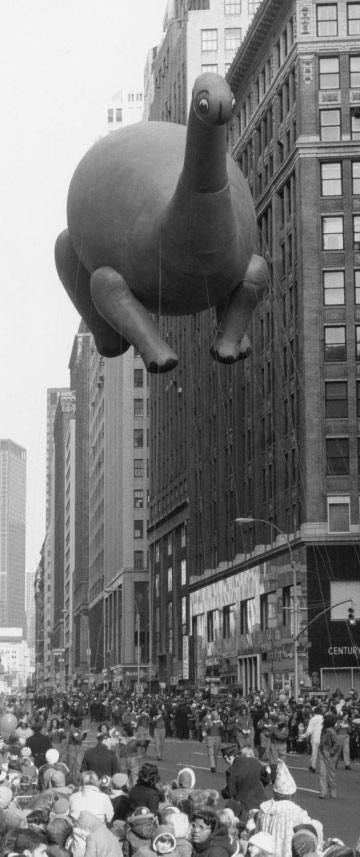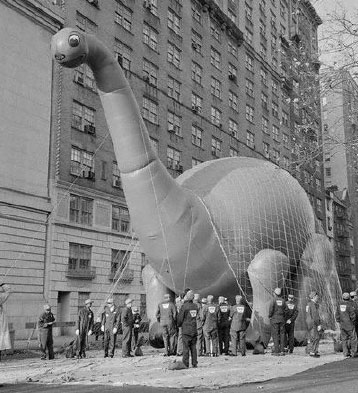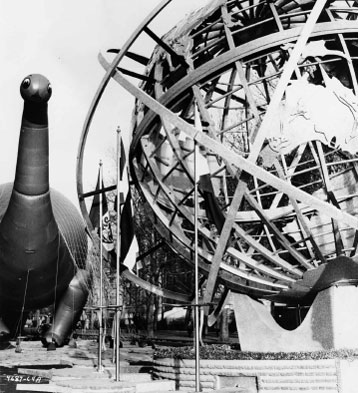 DINO returned to New York with eight more of his friends – this time made of fiberglass and featuring cutting-edge animatronics – for Sinclair's Dinoland exhibit in the 1964-1965 New York World's Fair.
He and the other dinosaurs traveled by barge 125 miles down the Hudson River to the Dinoland Pavilion.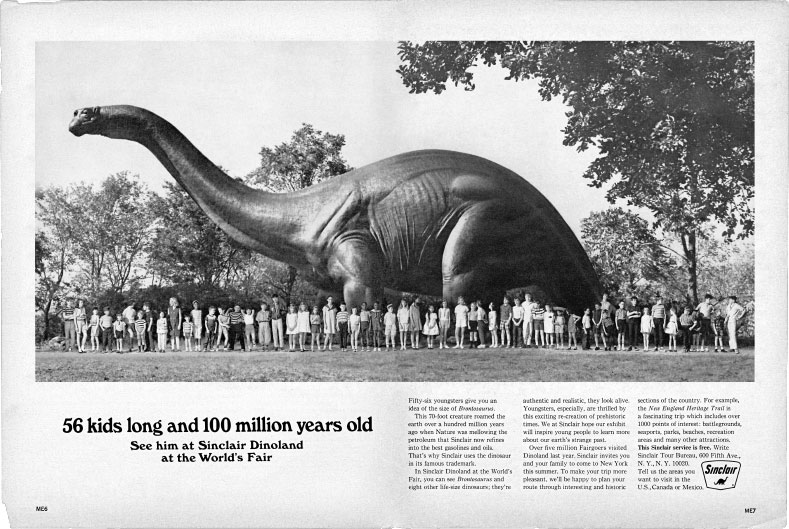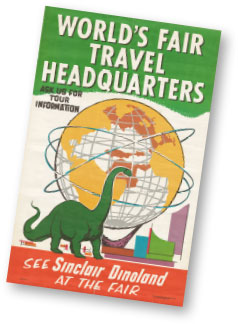 DINO was 70 feet long (or 56 kids long, according to the advertising) and weighed 20 tons.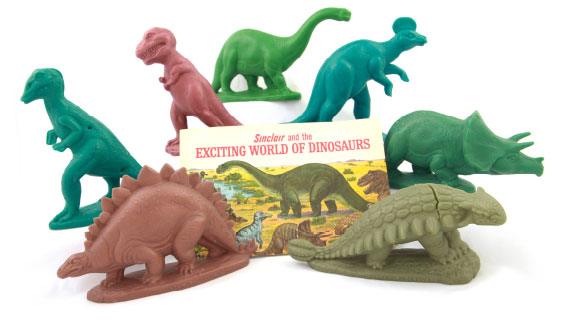 Sinclair's Dinoland featured "Mold-a-Rama" machines, which for 25 cents would mold a dinosaur toy out of Sinclair's "Dinofin Plastic" before your very eyes.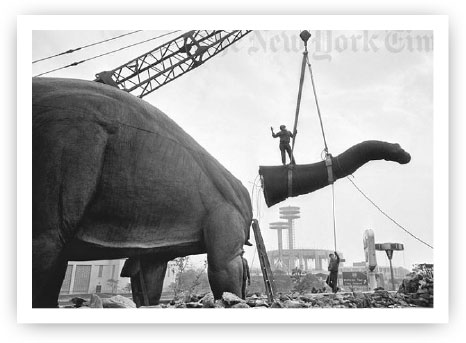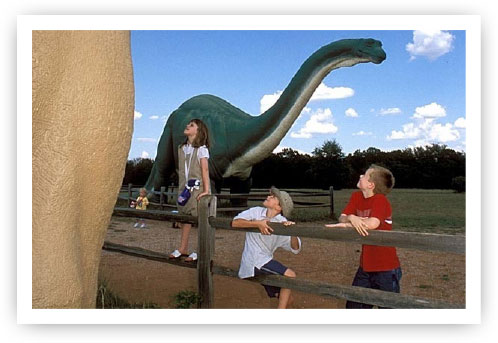 After the fair, DINO had his animatronics removed; toured the nation with his fellow Mesozoic friends; appeared in the 1966 Macy's Thanksgiving Day Parade; and now lives in Dinosaur Valley State Park in Glen Rose, Texas, along with the Tyrannosaurus rex.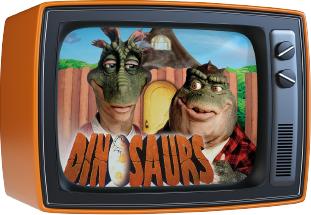 In the 1991-1994 Disney TV series Dinosaurs, which featured animatronic dinosaurs by Jim Henson, Sinclair is the surname of the main characters.

In 2015, DINO returned to The Macy's Thanksgiving Day Parade for the first time since 1976. The new 72-foot-long balloon took flight above New York City in front of 3.5 million spectators and more than 50 million television viewers.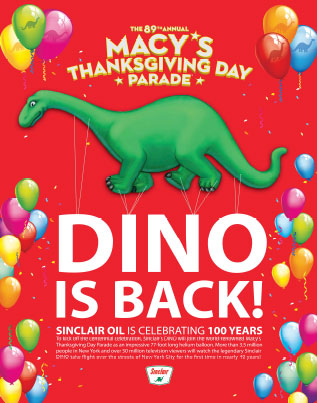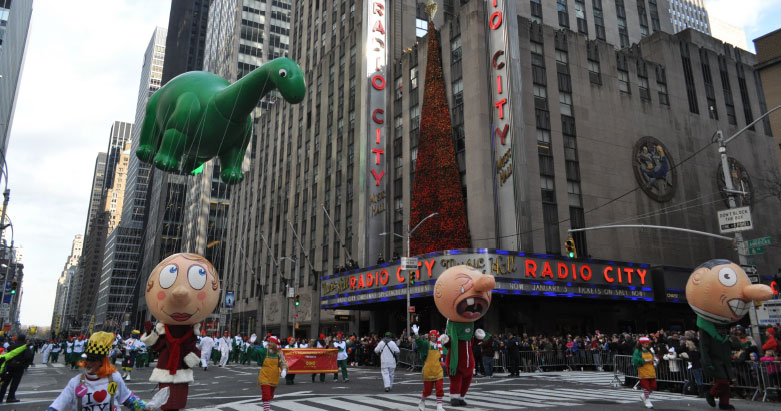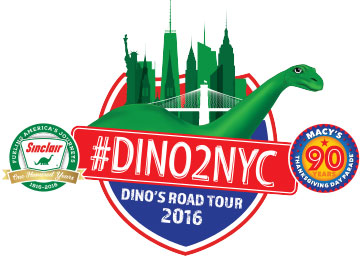 In 2016, DINO took a cross-country road trip from California to The Macy's Thanksgiving Day Parade in New York City to celebrate Sinclair's centennial.
Fiberglass DINOs began appearing at Sinclair stations across the country in the early 1960s. He's still a favorite photo op today.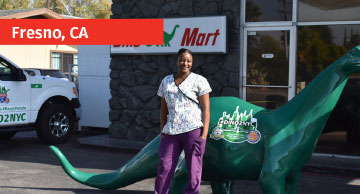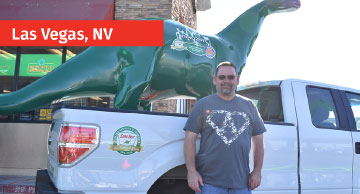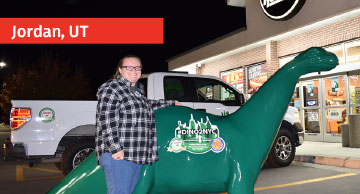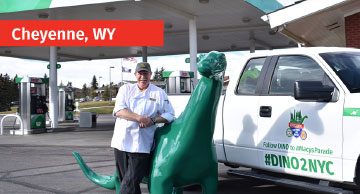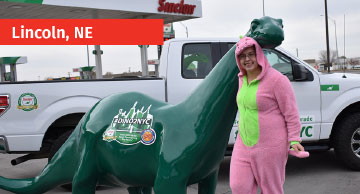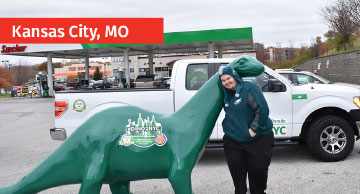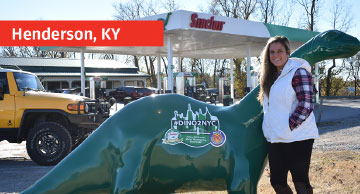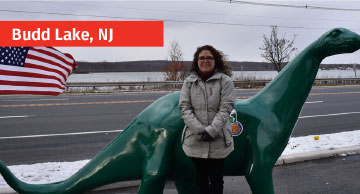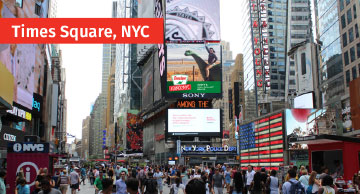 Credit: Some photographs shown above are courtesy of the collection of Steve McCarthy, Salt Lake City, UT; Wendell White; American Oil & Gas Historical Society