1930s
When the Great Depression hit, Mr. Sinclair made the boldest gamble of his life.
Harry Sinclair had his eye on a rival, Prairie Oil and Gas – a Rockefeller interest as big as Sinclair Consolidated. Sinclair held a half interest in the Ajax pipeline, which was jeopardizing the entire Prairie system by siphoning off most of their pipeline traffic. But in 1930, Sinclair sold its half to Standard Oil Company, along with its 50 percent interest in the Sinclair Crude Oil Purchasing Company, for $72.5 million cash.
The industry called it suicide.
But that's what saved the company.
With cash in hand, Sinclair braced for the Depression, ready to buy up distressed companies – including Pierce Petroleum Corporation, Rio Grande Oil Company, Richfield Oil Company, and the Producers & Refiners Corporation (Parco). If not for Sinclair, these companies would have disappeared, at huge loss of jobs and community prosperity. Parco alone provided livelihoods for more than 600 families.
In 1932, Sinclair got what he'd been striving for: the assets of Prairie Oil and Gas, which gave Sinclair the largest pipeline system in America.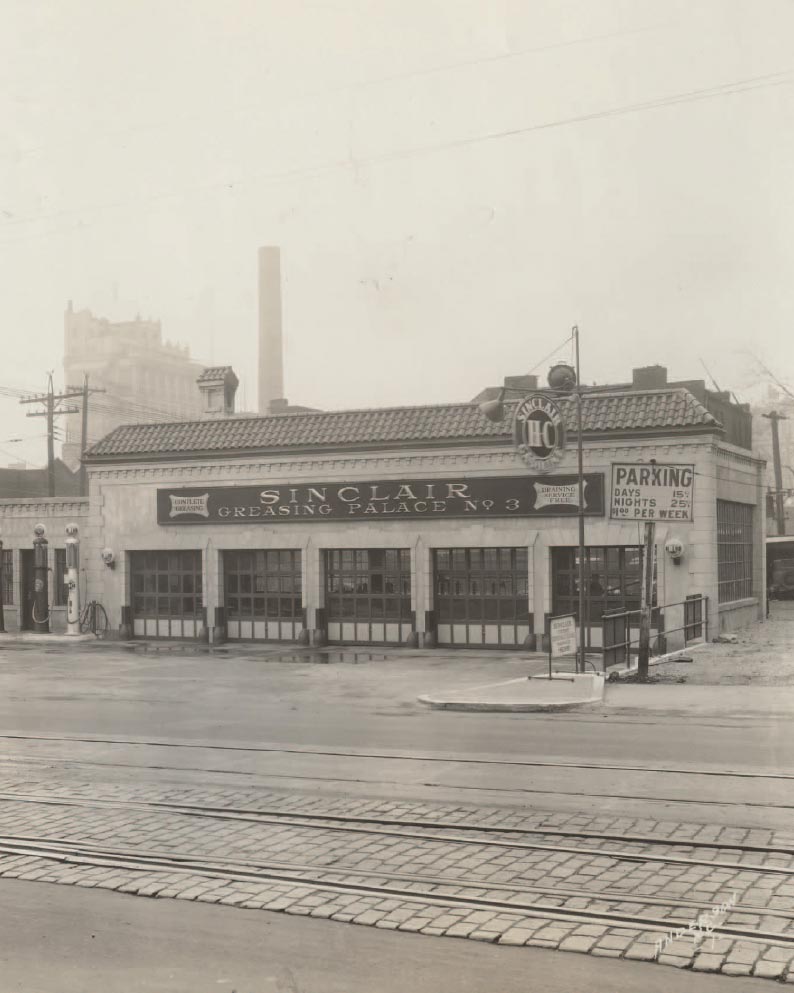 The hatching of Dino.
Advertising writers first introduced Sinclair's famous green Dino in 1930, to promote Wellsville-refined lubricants – derived from Pennsylvania grade crudes laid down during the Mesozoic Era, when dinosaurs roamed the earth.
The campaign, featuring a dozen different dinosaurs, was a great success. In particular, the gentle but massive Apatosaurus became so popular that Sinclair registered him as a trademark in 1932.
P. G. Alen, creator of lifelike papier-mâché animals for motion pictures, built a gigantic Sinclair dinosaur exhibit for the 1933-1934 Chicago World's Fair, which was themed "Century of Progress." The exhibit drew more than 24,000 people daily. The partnership with Alen even led to company-sponsored geological materials for schools and libraries.
In 1935, Sinclair issued a dinosaur stamp album and released accompanying dinosaur stamps weekly at service stations. The first printing of albums sold out within 48 hours after a single network-radio broadcast of the offer.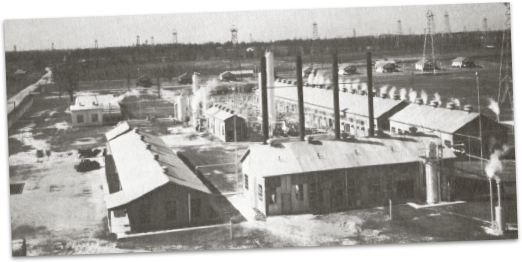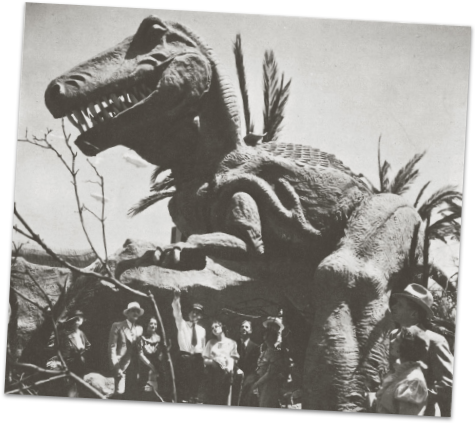 The world emerged from the Depression – just in time for war.
While the holding company temporarily lost the Sinclair name during these events, and became simply Consolidated Oil Corporation, the Sinclair companies emerged from the Depression with huge gains in every operation – in fact, the company doubled in size, and by 1933 was the eighth largest oil company in America:
14,000 miles of pipelines 
6,446 railroad tank cars
100,000 tons of ocean tankers
Nine deepwater terminals
2,170 bulk plants
8,100 service stations, company-owned or held under long-term lease
21,000 other retail outlets
20,000 employees
Then came World War II.