1960s
The 1960s kicked off with prices and earnings at a 15-year low.
Ever the innovator, Sinclair took a hard look at every facet of the business to find ways to improve – and stay strong through unpredictable industry changes.
Sinclair started using computers to automate hundreds of work functions and analyze complicated data – introducing the industry's first automated pipeline system in 1965.
Sinclair consolidated service stations, plants, field offices and administrative procedures, and redesigned its public image, including signs, symbols and service outlets.
Sinclair overhauled its huge transportation system, rerouting deliveries, removing pipeline bottlenecks, building new pipelines, selling its railroad tank care fleet – the industry's largest – and pioneering a new tanker design.
Sinclair upgraded products and found more efficient ways to use equipment – introducing nickel-additive fuels, farming fertilizers and the Sinclair-Koppers Company plastics venture, which surged Sinclair's petrochemicals into a $100 million-a-year business.
Sinclair opened a management development center in 1962 to encourage employees to develop their minds, benefitting both Sinclair and themselves.
Though prices continued to decline, Sinclair's production and earnings rose throughout the decade. In 1964, Sinclair handled 179 million barrels of sales with fewer employees than it took to handle 116 million barrels in 1950.
"Don't fight the uncontrollables such as weather, price wars and prorationing. Counteract their effects with better performance."


E. L. Steiniger, President, 1958-1964
Sinclair at the New York World's Fair.
For its 1964-65 New York World's Fair exhibit, Sinclair recreated the Mesozoic Era with nine life-size fiberglass dinosaurs featuring cutting-edge animatronics.
It took an entire team of paleontologists, engineers and robotics experts three years to build the beasts.
Designed by world-renowned wildlife sculptor Louis Paul Jonas.
Based on the work of Dr. Barnum Brown, of the American Museum of Natural History, and Dr. John H. Ostrom, of Yale University's Peabody Museum of Natural History.
The dinosaurs traveled by barge 125 miles down the Hudson River to the Dinoland Pavilion at the fair, where approximately 10 million visitors saw them.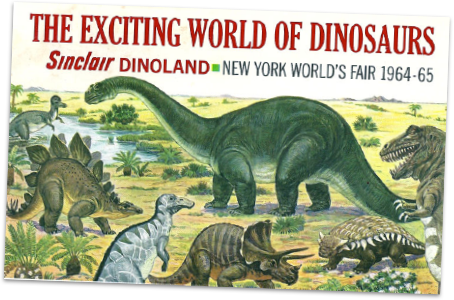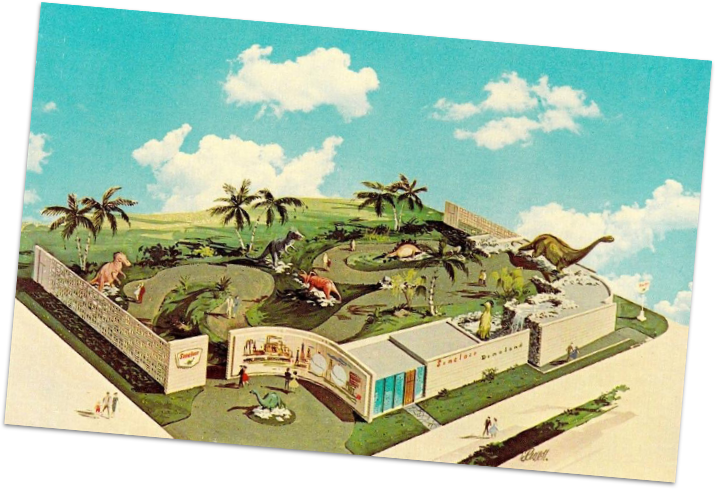 After the fair, the dinos – their animatronics removed – went on a national tour, which included the 1966 Macy's Thanksgiving Day Parade. Sinclair's giant Dino balloon also made his debut that day, continued to be a part of the parade until the late 1970s, and then made a comeback in 2015.
Learn more about Dino and the parade.
The nine dinosaurs now live at parks and museums throughout the country:
Tyrannosaurus rex and Apatosaurus at Dinosaur Valley State Park in Glen Rose, Texas
Triceratops at Museum of Science & Industry in Louisville, Kentucky
Stegosaurus at Dinosaur National Monument in Jensen, Utah (a copy is now at the Cleveland Museum of Natural History, Ohio)
Corythosaurus in Independence, Kansas
Ankylosaurus at the Houston Museum of Natural Science, Texas
Struthiomimus at the Milwaukee Public Museum, Wisconsin
Trachodon at the Brookfield Zoo in Brookfield, Illinois
The Ornitholestes was stolen and never recovered. However, copies from the original mold have been displayed in New Jersey and Calgary, Alberta.
The largest merger in the history of the industry.
A company called Gulf & Western Industries, Inc. had offered to buy Sinclair, but Sinclair management gave a resounding 'no.' They didn't want to be bought out by a company that wasn't even in the oil industry. Sinclair put out a distress signal; Atlantic Richfield Company (ARCO) answered. The two came together in what was, at the time, the largest merger in the history of the industry. This naturally caught the attention of the U.S. Justice Department, but they eventually reached an agreement in 1969: ARCO would divest themselves of certain assets west of the Mississippi, including the name "Sinclair Oil Corporation."