Our 24-hour emergency hotline is 800-321-3994.
Information You Will Want to Know
Our pipelines carry crude oil and refined petroleum products. Federal government statistics show that pipelines have a safety record unequaled by any other mode of transportation. We need your help to keep it that way. It is unlikely that you would ever experience a leak, but should a leak occur, the information contained in this web page will help you:
Know how to recognize a leak
Know what to do if you notice a leak
Know how to immediately report a leak
By working together, we can keep our petroleum pipelines operating safely without any disturbances or inconveniences. If you have questions about this safety information or our operations in your area, please write us at the following addresses or call us during normal business hours:
Sinclair Pipeline Company
Rocky Mountain District
P.O. Box 185
Sinclair, WY 82334
307-324-2636
Sinclair Pipeline Company
Mid-Continent District Office
26036 Old Hwy 24
Carrollton, MO 64633
660-542-0206
How to Identify Our Pipelines
Pipelines are buried for safety reasons. Since most pipelines are underground, pipeline markers are used to show their approximate location. Sinclair has installed pipeline markers at public road, rail and river crossings, and various other places along the pipeline's path. However, you should never assume the exact location of the line. Someone may have moved or removed the marker. It is a criminal offense to willfully deface, damage, remove or destroy a pipeline sign. Should you see a marker with a contact number other than 800-321-3994, please do not hesitate to dial either number. A Sinclair representative will be happy to 811 - Know what's below. Call before you dig.help.
Know What's Below – Call Before You Dig!
To protect pipelines, other underground utilities, the public and the environment, the states in which Sinclair operate have each developed an excavation notification system known as "One Call."
One easy phone call to 811 starts the process to get your underground utility lines marked for free. When you call 811 from anywhere in the country, your call will be routed to your local One Call Center. Local One Call Center operators will ask you for the location of your digging job and route your call to affected utility companies. Your utility companies will then send a professional locator to your location to mark your lines within a few days. Once your underground lines have been marked, you will know the approximate location of your utility lines and can dig safety, because knowing what's below protects you and your family.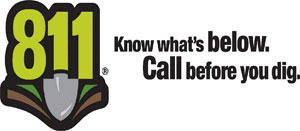 Always call 811 before starting any digging project.
Reporting an Incident
All scrapes or dents to a pipeline must be inspected. If not properly repaired, such damage could result in a future leak or serious accident. Regardless of how minor the damage appears, don't cover it up! Call the pipeline operator. We are also very much concerned over any condition or danger that could threaten the pipeline. If you become aware of such an incident or a potential incident, please call us immediately!
How to Identify a Petroleum Pipeline Leak
Often you can see or smell a pipeline leak. The following signs might indicate a petroleum leak:
A strange or pungent odor near the pipeline
A hissing or roaring sound (from escaping petroleum)
A patch of dead or discolored vegetation in an otherwise green setting along a pipeline
Continuous bubbling in wet, flooded areas or marshlands, rivers, creeks and bayous
If you suspect a leak, please do not attempt to stop the pipeline's flow by closing any valves or operating any of the pipeline equipment. Pipelines are normally operated under high pressure regulated by the product that they transport. Attempting to close valves or the operation of equipment could endanger lives and property.Refinery Pipelines
What to Do if You Suspect a Leak!
The first concern should be for the personal safety of people. Turn off any machinery and/or equipment in the immediate area. Do not create any sparks or heat sources, which could ignite escaping petroleum. For example, do not start a car, turn a light switch on or off, or light a match or cigarette. Turn off any lit gas pilots. Immediately leave the area by foot in a direction away from the vapors or fumes. Warn others to stay away from the leak. Do not drive into or go near the area around the leak. The car's engine might ignite the vapor cloud or deplete the oxygen in the cars engine causing it to stall trapping you in the vapors.
Notify us and give your name the location and a description of the leak. For our pipelines call us at 800-321-3994 or the emergency dispatch for your county.
Our 24-hour emergency hotline is 800-321-3994.