These Little Legs of Mine
Wednesday, October 21, 2015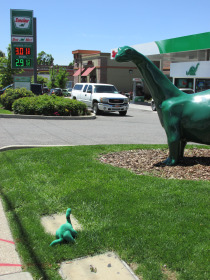 I know it's been a few weeks since I last shared an adventure. I've been busy planning for all of the different cities I want to visit. There are so many sites I want to see, I am sometimes overwhelmed with deciding where to start. Please, no jokes about the brain size of an apatosaurus! After saying a temporary goodbye to all my friends at the corporate office, I decided the best place to start was right here in Salt Lake City! First stop: a Sinclair gas station to fill up my car with the new DINOCARE® gasoline. With all the driving I am going to do, it's important to optimize my fuel economy! The location even had a great, big DINO – just like me!
The next stop was a trip downtown to check into the Little America Hotel in Salt Lake City. A DINO's got to get his beauty rest, you know! Boy oh boy, did I have a great view! Not only could I see all the great buildings in downtown Salt Lake, I could see the whole valley! Did you know that the Salt Lake Valley is almost entirely surrounded by mountains? There are the Wasatch Mountains to the east, the Oquirrh Mountains to the west, and Traverse Ridge to the south! I wasn't able to catch a glimpse of the Great Salt Lake from my balcony, so I might have to make a trip out there!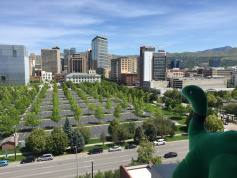 After a short nap, I went to see the Capitol. What a beautiful day for an adventure. Did you know Salt Lake City is the capital of Utah? The capital stands at the top of one of the valley's benches, providing me a mesmerizing view of the valley below! There sure are a lot of stairs to get up to the capital building. It's a good thing I had worked out at the office gym before my adventure, otherwise I'd be a very winded dinosaur. When I walked inside the Rotunda, with those high vaulted ceilings and tall marble staircases, I realized how small of a dinosaur I really am.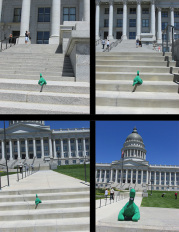 After exploring the Capitol, I went for a stroll along the Capitol Walkway, where I could see all the monuments and cherry trees. I paused to take one last look at the magnificent building before heading back to the hotel to rest up. I am not sure where my next adventure will take me, but I know it will be exciting!