Return to the Zoo
Wednesday, October 21, 2015
When I first visited the Hogle Zoo in beautiful Salt Lake City, Utah, I spent all my time looking at the dinosaurs and forgot about all the other animals. So I decided to take a second trip to only see them, and boy was I not disappointed!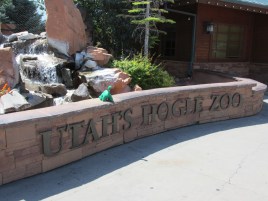 The morning was nice and cool so most of the animals were out and about. Even the Amur Leopard, one of the most endangered cat species in the world, was strolling around majestically. This animal can run around 36 miles per hour, leap 19 feet horizontally and 10 feet vertically, and is known for its excellent climbing abilities. My stats are not that elite, but pretty close! As I wandered about, I was told that the giraffes were becoming more comfortable in their new homes and had begun eating closer to where the people could watch them. Sure enough, the younger giraffe was enjoying a mid-morning snack close to the observing platform. I'm not sure why, but I'm a big fan of animals with long necks.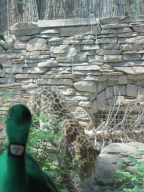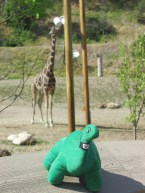 I made my way to the Small Animal building, where I could see some reptiles and amphibians. I saw snakes, turtles, lizards, and many other awesome animals. One lizard even agreed to pose with me! Just outside the building were the Siamese crocodiles, which are from Southeast Asia but virtually extinct in the wild. Luckily there has been an increase in crocodile farms where the Siamese crocodiles have been thriving.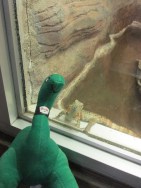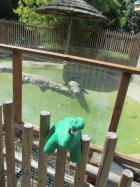 At the end of my trip I was able to see a very special elephant named Dari, who is the oldest living African elephant in the United States. Even though she suffers from arthritis, she seems to enjoy her time with the trainers, who dedicate their time to keeping her comfortable through training and exercise routines designed to keep her stimulated mentally and physically. I also had to stop by one of the iconic lion-head water fountains, which have been used in the zoo sense the 1950s, for a quick drink and picture!