Off to the Parade
Wednesday, October 21, 2015
I'm not sure if you all have heard, but Sinclair's DINO will become a giant, 77-feet-long balloon in this year's Macy's Thanksgiving Day Parade! It's been nearly 40 years since the giant DINO has made an appearance in the parade, and we are all very excited – especially me!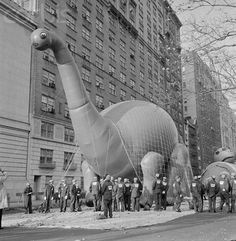 The Sinclair DINO balloon first appeared in the 1963 Macy's parade and remained a fan favorite every year up until 1976. The original balloon was so popular that it became an Honorary Member of the Museum of Natural History in 1975. Maybe someday I'll be inducted along its side!
The Macy's Thanksgiving Day Parade is celebrating almost 90 years as one of the nation's favorite holiday events and the start of the holiday season, with more than 50 million viewers across the country and more than 3.5 million spectators that line up along the streets of New York City. The Sinclair employees, along with me, are counting down the days until we can watch our DINO soar! I just hope I can be there in person!!