Junior Fire and Safety Day
Thursday, November 5, 2015
The Second Annual Junior Fire & Safety Day was a wonderful opportunity for Sinclair Casper employees to bring their families out for a day in the sun and learn about fire safety.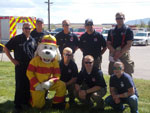 The Sinclair Fire brigade was joined by the Casper and Evansville local emergency response team members to teach the children about fire safety and what they should do in case of an emergency at home. They were even surprised by Sparky the Fire Dog!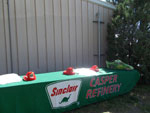 Sinclair's refining employees devote countless hours to improving the lives of others and giving something back to the communities in which they reside. These individuals go out of their way to promote good will and become Sinclair Emissaries in the communities where they live and work. They have raised thousands of dollars for local and regional outreach programs, and Sinclair Oil Corporation applauds their efforts and the difference they have made in their communities.