How excited are you for Sinclair's return to ARCA Racing? As we prepare to hit the track at Daytona International Speedway on February 18th, we want to introduce you to the Salt Lake City native who will pilot the No. 28 Sinclair Oil Toyota Camry around the superspeedway. At 26, Michael Self is a former NASCAR K&N Pro Series regular, a full-time business student in Charlotte, North Carolina and our guide into the storied world of racing. Michael took some time to answer a few questions so our fans could get to know him, and ARCA racing a little better.
How did you get into racing?
Racing was actually all my dad's idea. Also named Michael Self, he grew up in the South as a huge NASCAR fan. He never raced himself, but was good friends with the legendary Allison brothers - Bobby and Davey - and got the bug. By osmosis, I became a fan. One day, when I was around nine years old, he saw some people driving by with go karts on a trailer and flagged them down to see what it was all about. Turns out, there was a go kart track in Lindon, Utah where a group of more than 100 people raced weekly throughout the summer. That night, my dad came home and asked if I would be interested in doing something like that, and of course, I jumped at the idea. The next summer, I began racing at Wasatch Race Park and haven't looked back since!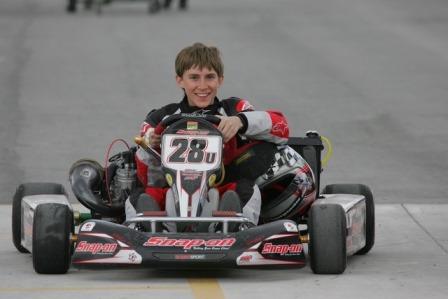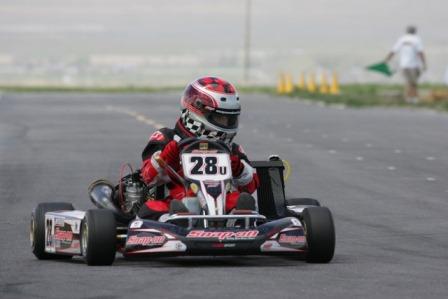 Black Rock Raceway
Was your family supportive?
My family couldn't have been more supportive! My parents were my sponsor for all the years I was karting, and even when I began racing full-size cars. My dad was my go kart tuner for the first five years or so. He and I did our own thing every weekend. He would tune and set the kart up, I would drive. This lasted until I started racing karts at the national and world-wide level. I can count the number of races my dad hasn't been at on one hand. He, my mom and sisters have been my main support system through the ups and downs. I'll never be able to repay them for the time and financial assistance they've given me for this opportunity.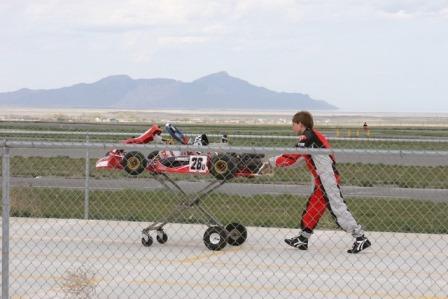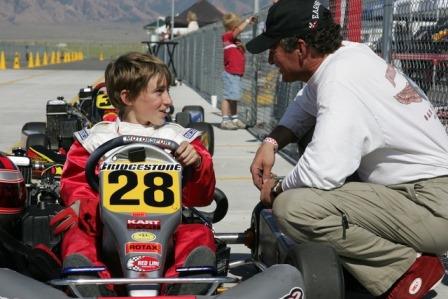 Michael self, father, giving his son some words of wisdom.
How long have you been professionally racing?
I believe 2007 was my first "professional" race in a full-size Skip Barber Series car. My first NASCAR sanctioned race was in 2009 and my first race in one of NASCAR's national series was in 2015.
How many races have you raced in professionally?
Well, if you count karting at the highest level professionally, I'm going to have to get back to you after a few days of counting. Technically, if we're just talking about professional stock car races, I've competed in roughly 58 NASCAR K&N Pro Series (NASCAR's regional touring series) events, three ARCA races and seven NASCAR Xfinity Series races.
What is your favorite track?
Two answers to this question. My favorite oval is Phoenix International Raceway. My favorite road course, and probably my overall favorite track, is going to be a toss-up between Sonoma raceway and Watkins Glen. Sonoma is like a roller coaster and the Glen is just old-school, fast, hard-core road racing.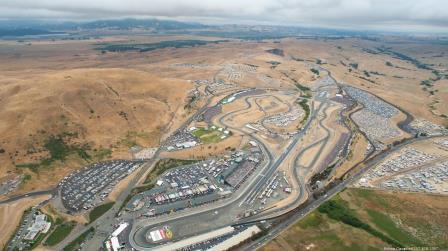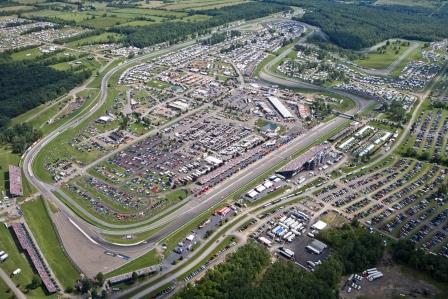 Tell us about being selected for NASCAR Next?
In 2013, I was hand-picked by a panel of NASCAR judges to be a member of the "NASCAR Next" class of 2013 - 2014. I believe there were 13 drivers from different race series around the country in the class that year.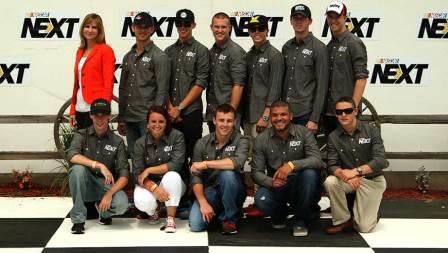 How long do you practice / drive in a week?
The average race weekend will have two hours of practice before qualifying, then the race. Other practice for me during the week will come on the simulator I have at home. Most weekends I'm not actually racing, I'm coaching other drivers. That keeps me thinking about driving and putting myself in the driver seat mentally. Because you can't get wheel time until you're at the track, I prep in other ways. I try to get to the gym for general weight lifting at least three days a week, as well as biking a minimum of an hour a day, four days a week. I also put a lot of emphasis on eating healthy and taking in at least half my weight in fluid ounces the days leading up to a race.
Let's talk non-racing for a second. What other hobbies / interests do you have?
Road biking, my favorite thing to do to clear my head and get a good sustained exercise. Working out. Between school, trying to cycle, go to the gym and work, the day's fill up pretty quick.
We saw that you proposed to your girlfriend. How did you meet your now fiancé?
Through the NASCAR Next program! At the time (2013), she was working for Hendrick Motorsports and represented Chase Elliott. Chase, of course, was one of the other 12 drivers in the Next program with me. We had a media event in Chicago which consisted of a dinner with all the kids in the group and different members of the media. We officially met at that dinner, talked quite a bit and have never stopped talking.
We cannot wait for the Daytona race! We hope you will join us in watching Michael Self and Sinclair Oil on FS1 February 18th, 2017. Be sure to follow us on Facebook, Instagram and Twitter to find out more about Michael, ARCA and to enter to win a special prize!