Casper Refinery Hosts Pay It Forward Day at Stoneking Park
Thursday, November 5, 2015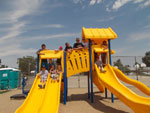 Sinclair Casper Refinery's first Pay It Forward Day was a wonderful celebration at Stoneking Park in Evansville.
Sinclair employees and Community Advisory Panel members – along with 42 members of the Evansville community, including members of the police, fire, and emergency service departments, town council members, parks department employees and community members – came out to plant trees and shrubs, participate in painting projects, and build playground equipment.
The park looks wonderful and a great time was had by all at this community event!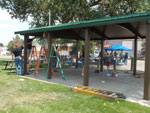 Sinclair's refining employees devote countless hours to improving the lives of others and giving something back to the communities in which they reside. These individuals go out of their way to promote good will and become Sinclair Emissaries in the communities where they live and work. They have raised thousands of dollars for local and regional outreach programs and Sinclair Oil Corporation applauds their efforts and the difference they have made in their communities.