Bark at the Basin
Wednesday, October 21, 2015
When I returned from Nebraska I made a stop at the Sinclair Corporate office, and it turned out that a group of employees were participating in the Bark at the Basin fundraiser that weekend. Bark at the Basin is an event that benefits Best Friends Animal Society, an animal welfare organization that has been fighting for the lives of cats and dogs for over 30 years! The event was being held up at Snowbasin Ski Resort in Huntsville, Utah, where everyone who registered could bring their dogs to accompany them on a 5K trail hike through the mountains.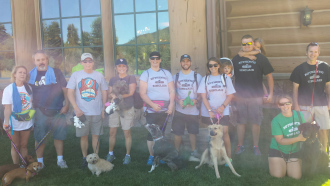 When I arrived at the base of the resort, I was surprised at how many people had showed up to support Best Friends! I made my way past the big moose statue to sign up for the hike; the Snowbasin employees sure were happy to see me. It was a beautiful afternoon and I was getting excited. After I signed up for the hike I met up with the employees from the Sinclair office and we all gathered for a group photo. All the dogs were well-behaved and didn't even mind me tagging along!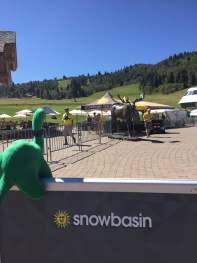 After a brief introduction and thank-you meeting from the folks from Best Friends, we were off! Heading down the trail I started to realize how much faster everyone else was moving and how far behind I was. But thankfully one of the Sinclair employees swept me up and I was back in the group.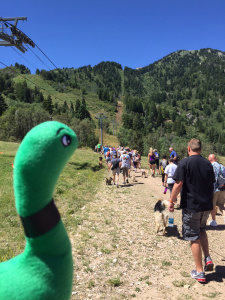 The trail was absolutely beautiful and everyone seemed like they were having a great time! There were plenty of twists and turns and a few good places to stop and rest. My favorite was the little water stream; I stopped there to rest my feet and for a nice cool drink. By the time the hike was over I was worn out! Everyone else was busy cooling off their dogs and making sure they had enough water. Overall it was a great experience for a good cause!